Audi e-tron quattro St Louis | Audi Electric SUV | 2019 Audi e-tron quattro
Charged with excitement. Meet the all-new 2019 Audi e-tron quattro...The Audi e-tron quattro proves how exciting electromobility is and how much potential it holds for the future. Explore the all-new 2019 Audi e-tron quattro and be the first behind the wheel!

Audi's first all electric vehicle is available to order at Audi West County


 Audi e-tron quattro Performance | 2019 Audi e-tron quattro Engine
When it comes to performance, or "under the hood" as they say, the e-tron quattro features, not one, but three engines. One electric motor drives the front axle, the two others act on the rear axle for a total output of 320 kW. The driver can even shift 370 kW of power and over 800 Nm (590.0 lb-ft) of torque temporarily while boosting, thus, creating the performance similar to a sports car. The Audi e-tron quattro also sprints from 0 - 60mph in a breathtaking 4.6 seconds.
The large lithium-ion battery is integrated into the floor of the passenger compartment in order to give the Audi e-tron quattro a balanced load distribution and a low center of gravity which provides more dynamic handling. The battery's capacity of 95 kWh enables a range of more than 300 miles on a full charge. When empty, a full charge with DC electrical current at a charging column with an output of 150 kW gets you to 80% charged in about 30 minutes. Charge up at home with a 9.6kW AC charger that is designed to fully charge the battery overnight.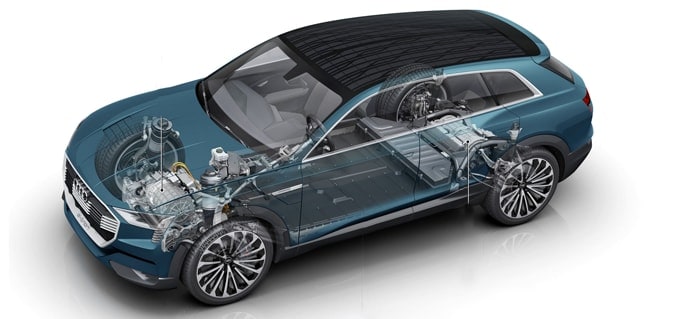 Audi e-tron quattro Drive System | e-tron quattro Electric SUV
An intelligent drive management system allows the driver to select the perfect mode for the driving situation/conditions. During sporty driving on a winding road, the Torque Control Manager actively distributes the power between the rear wheels as needed. This torque vectoring provides for maximum dynamics and stability...and one fun ride. Contact
Audi West County
to reserve yours and be the first to get behind the wheel of the future! Our team of experts will help you find your perfect Audi!